machines for lovers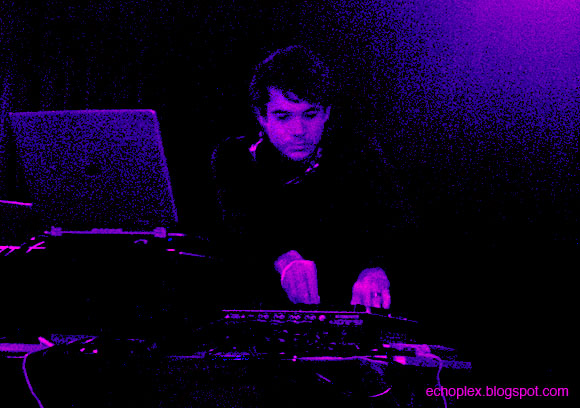 ghostly international
and its spinoff label
spectral sound
have been gradually insinuating themselves into my psyche since seeing their
disco nouveau
and
idol tryouts
compilations floating around a few years ago. more recently i realized that several of the times i was blown away at
the bunker
, the records or DJs were ghostly-affiliated. thinking this was purely a techno label, i was surprised to hear the more rock-oriented
dykehouse
and
mobius band
(who
i've also seen recently
). now i keep an eye out for anything going on around town with their artists.
first up at
rothko
last wednesday was
dj plexus
, who started late but still spun to a mostly empty room. damn the "fashionably late" attitude, this was great music, right from the start. the music was seamless, seeming to simply morph continuously into different versions of an endless minimal techno song originating somewhere between detroit and berlin. excellent choice of warmup dj. i had been thinking the turnout wouldn't be too good because it was thanksgiving eve, but by the time he finished, there was definitely more of a crowd, however reserved.
if i gave an overview of
derek plaslaiko
's set, it would sound pretty much the same as above, and yet it was noticeable when he took over. the energy went up a notch, his choices became a bit more aggressive. he was also very fond of creating tension by pulling out all the bass, adding a growing effect that would take over the entire room, and make us wait for the four-on-the-floor to drop back in. sometimes he mercilessly built it up for far longer than the expected duration, only to slam into a completely different but utterly appropriate record. again, non-stop, never a dull moment. people really got moving during his set.
ben
leaned over to me and ironically commented, "and they say electronic music has no soul."
audion
was the main reason for being there. the techno-acid alias of
matthew dear
, this project's songs are 95% instrumental, and obsessed with two things: punchy, squelchy, grinding grooves and sex. there is no overt sexuality in the music, since it's instrumental, although the angry synths rubbing against each other at times make perfect sense with the simplistically raunchy titles. you would never expect this kind of raw, angry, beat-driven music from the calm, boyish figure onstage. using only a laptop and outboard mixer with effects, dear kept the music going for over an hour, wearing everyone out with his constantly great sounds. ben bowed out first, then even
bianca
succumbed to exhaustion and left. i was fairly drained, having been moved to dance so much by the earlier DJs. but i was determined to hear the hardest sounds this man had to offer, and i soon got them. the rhythms became more complex on top of the relentless kick drum, more layers of bleeps and bloops were added, and the synths squiggled more uncontrollably. the audience really got into it, whooping when they recognized a new synth riff. finally, he ended with "just fucking," a groove as single- and dirty-minded as it sounds. true to its name, it pumped away furiously until an abrupt finish. he had no stage show to speak of, but the music made that fact irrelevant.
after such a musical climax, i was ready to leave, and yet i saw plaslaiko setting up at the turntables again. i wished that wasn't the case because i hated to miss hearing more. no one record jumped out as being one thing i had to get; it was pretty much non-stop good music, just like the amazing second disc of the
spectral sound vol. 1 compilation
. one of the amazing things about ghostly/spectral-related music is its consistency. if you like an artist or DJ, they are pretty much great all the way through, with few exceptions. this night cemented that impression in my mind.
the title of this post is a record by spectral sound's
hieroglyphic being
.