unchained melody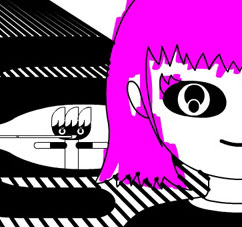 sunday night was a great one for music at
tonic
. an excellent bill put together by
stars like fleas
, with
akron/family
and
pandatone
rounding things out.
pandatone is a one-man band that does a great version of the sort of glitchy indiepop/laptop music released on labels such as
morr music
or
carpark records
. this music has gotten so much low-key attention it's spawned the insanely successful hybrid
the postal service
and even its own genre name:
indietronica
. trevor was charmingly self-deprecating and held together the uplifting music with a guitar and a laptop, some of the laptop pieces sounding like they were manipulated from his guitar. as shannon from stars like fleas agreed, it has a personality about it that sets it apart from any standard attempts at following this genre. the show was made more visually entertaining by projections from video artist
mumbleboy
, whose colorful looping cartoons of people, animals, and robots (such as the one above) went perfectly with the music.
akron/family then settled in for an hour of incredible music. they veer back and forth between short pieces and brilliant improvisation that puts most so-called "jam bands" to shame. how they make an ordinary four-piece rock band into something that bears no resemblance to such a thing is amazing. a sort of naive country-folk is mixed with little noises and loops, multi-part harmonies, and occasionally swells into powerful noisy sections or long drones that have your head reeling. they have a few impossible-to-find releases out, but hopefully soon we'll get to hear their new CD for
young god records
.
finally, stars like fleas took to a stage lit only by a household lamp. using a baby grand piano, acoustic guitar, banjo, saxophone, live drums, and computer processing and rhythms, they created a beautiful and unique sound world. singer/mastermind montgomery's voice was like that of a little boy grown up but still lost. no wonder, with the band barreling and meandering through barely adjacent genres with an ease that should embarass most musicians. avant-folk, jazz, experimental, glitch, indie rock, and more were touched on in the all-too-brief set.
it was a really good crowd for a sunday night. all 3 bands were still there by the end, chatting with each other about the show. it was a great show of mutual support all around.
the title of this post comes from
the song of the same name
by
the righteous brothers
. i actually never much cared for their version, preferring
the cover
banged out by
u2
. in any case, here it's a reference to the kinds of elusive but powerful melodies wielded by these bands.