signal to noise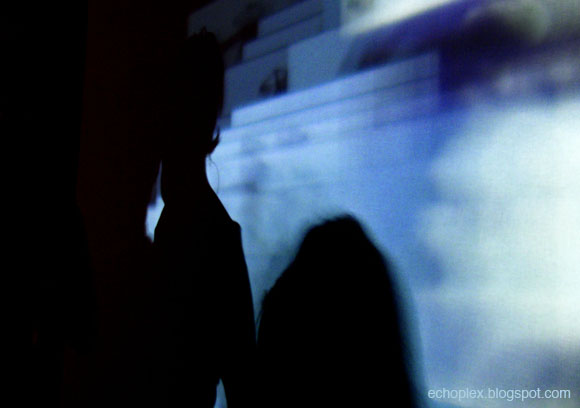 the bunker
has become one of the most consistently enjoyable nights i've been to since
angel
's own late, lamented
dogs blood rising
. ok, so i partially found dbr enjoyable because
ben
and i were often spinning, but the other elements were good too.
when
halcyon
was on smith street i used to go to the experimental/chillout night
undercity
. the early part of the night at the bunker is sometimes a bit like that, depending on the dj. undercity alumnus
spinoza
hosts and spins, and a rotating set of guests man the decks (and/or laptops) the rest of the time. if you're thinking it's just another boring "techno" night, think again. danceable electronic music is the focus, but all kinds of crazy things get thrown in the mix. one great night had
small change
hitting us with
stereo mc's
"
connected
" and
suicidal tendencies
' "
institutionalized
".
every few months the bunker takes over both floors of
tonic
starting the upstairs acts at midnight. i figured i'd go since
the last time i went
was so good. keeping the tradititon of unpredictability this past friday was charles peirce, better known as
end.
i've been into his music since i picked up his
debut CD
on
hymen
a few years ago. i met him at
remote lounge
last summer after a
mad ep
show, while handing out flyers for
one of my own
. turns out he's a really nice guy, although the music he's done since his debut gives lie to his reserved personality. twangy surf guitars, maddeningly singsong melodies, and breakcore beats dominate his sound these days. i'm partial to the tongue-in-cheek, quasi-"easy listening" style of his recent
percussions
disc on
tigerbeat6
, but live he just goes insane. musically, anyway. physically, he spends most of his time in intense brow-furrowed concentration. this night i unfortunately arrived late, but caught the last part of his set which ended with some kind of manic children's tune. he was dressed as a long lost member of either
kraftwerk
or
tubeway army
. the place was packed and rightfully appreciative of his skills.
i was also downstairs for
smartypants
&
local fields
and
david last
, who pumped up the floor to ben and
bianca
's delight. in fact it was pumped up so much it sounded as if one of the speakers was starting to go, but it just added a raw edge to the already bleeping and farting synth workouts.
giles hendrix
did his usual great visuals, augmented by the presence of
share
mastermind
ilan katin
and others.
meanwhile upstairs,
safety scissors
pushed a slightly raw, updated retro-electro vibe. ben and i agreed that his instrumentals worked much better.
dj olive
seemed to take us all over the map with his set, which i enjoyed. i never liked
we
very much, but as a dj, he's great.
monolake
came on pretty late, unfortunately announcing something about a short set, which i was told had to do with the planned overseas live collaboration with
deadbeat
not working out due to internet connection problems. his music was definitely the highlight of the evening, several levels of musically-created ecstasy being reached by new sounds and themes at the onset of a new measure. the show exceeded my expectations based on the two CDs i have. i guess
ableton live
(which i assume he was using, since he designed it) really
is
all that.
the title of this post comes from
an album
by monolake's
robert henke
.