and then i see a darkness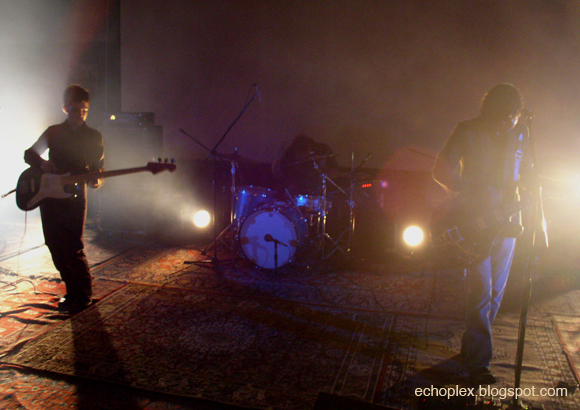 the
brooklyn lyceum
is a wonderful space. i'd only been there once before, to see
an independent film
. at that time, i didn't immediately take note of the lovely mix of gutted-out former opulence and decayed edges. but when i arrived there for the
calla
record release party, there was plenty of time to wander around observing and capturing those little details i'm so fond of. some of the results are on
ocular spectra
.
this was a bit of an odd event, since the venue doesn't do music shows all the time and calla were the only band playing. the main space is cavernous and dark, in many ways a perfect environment for calla. they must have known this, because they played with very low lights for most of the show. an antique rug and the line of speakers was all that differentiated the stage area from the audience.
the first obvious change since
the last time i saw them
was that they were back to being a trio. this made me happy right away. three instruments plus vocals and minimal samples is a good palette for them, espeically live. their former second guitarist switched to bass, which allowed the singer's guitar to be heard at optimum levels instead of fighting with another similar sound. as a result it had the best tone i've heard him get so far.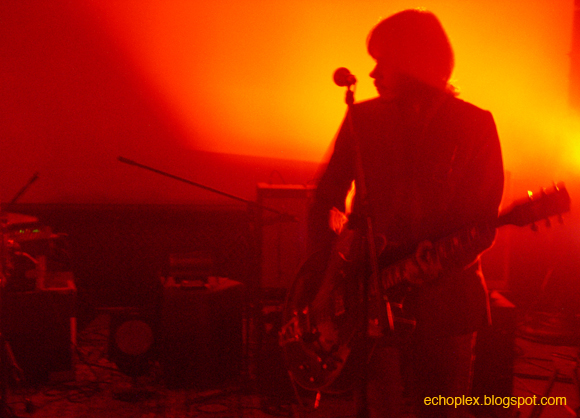 the new songs are definitely the most straightforward rock-oriented they've done (other than their
cover
of
can
's "
mother sky
"), but still remain unmistakeably calla in their construction and whispery vocals. a few songs (such as "it dawned on me") jumped out over others, but overall they maintained a heavy but midtempo dark rock atmosphere. at times a 60's pop sensibility peeked through the stormclouds in little vocal melody or harmony lines. they stuck exclusively to songs from their new album until the end, when they played the epic creepy funk-rock of "televised" and slow-burn mini-classic "fear of fireflies". the top picture was taken during the former, in a rare period of illumination made all the more blinding from our eyes being used to the mood lighting of the rest of the set. the band came back for a two-song encore before disappearing back into the darkness.
the title of this post comes from
a song
by
will oldham
.