high and low
last thursday was one of those nights with almost too much going on. almost. i was excited to see long-time mutual admirer jon derosa's band
aarktica
open for
low
at
bowery ballroom
, so excited in fact i had bought a ticket as soon as i heard. aarktica's first album,
no solace in sleep
, has been a favorite ambient listening choice since i picked it up. even before that, i liked jon's prior projects
dead leaves rising
and the prehistoric
fade
. i never liked low much until i heard "
(that's how you sing) amazing grace
" and became an instant fan. i thought the two bands would be a great match. but i also heard that on the same night, my friend carlos (most people know him from
interpol
) was dj'ing a bi-weekly party which i'd been meaning to go to. so i tentatively planned to stop by the party after the show, especially after seeing the clever
flyer spoof
of the
original poster
designed by
peter saville
for
factory
.
the six-piece live version of aarktica bears little resemblance to the ambient guitar textures of my favorite album by them, but they're so good i couldn't possibly complain. what the two incarnations share in common are atmosphere and the looping textures of jon's guitar. a drummer, two horn players, a harmonium, and a second guitar player expertly built the ebbs and flows formerly achieved with multitracking. i was glad a crowd as large and appreciative as that at the bowery got to experience them. jon mentioned the new album
bleeding light
was a
danzig
reference, which amused me because i was wearing a
danzig t-shirt
underneath my multiple layers.
i sat out the next band's set at the downstairs bar, although annoyingly there's no escape since they pipe the soundboard mix down there too. but all was forgiven once low started. i read on
central village
that friday's show had problems, and the set dragged
from their perspective
. i was concerned about the same thing since i only really knew
one album of theirs
, and i can't say i love all of it. but i left the show thinking that
a.
alan sparhawk (pictured above at a prior show photographed by
joe cunningham
) is a very underrated guitarist,
b.
mimi parker's voice is even more beautiful than i thought, and
c.
i need to pick up some of
their other records
.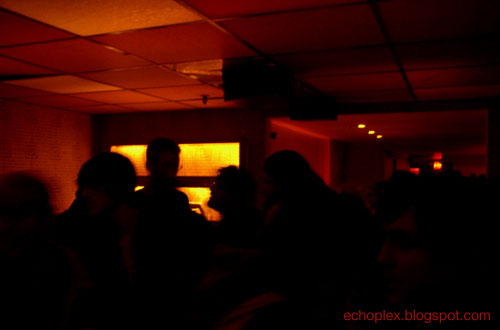 my
slocore
needs having been sated, i headed over to
happy ending
, the bar where the
visions of the impending apocalypse
party was happening. carlos wasn't there yet, so i decided to check my coat and go to the bathroom, since the lines for both were as frightening as they were necessary. this is not the kind of place you can just carry or throw your belongings in a corner, because it's fairly cramped even when it's not wall-to-wall people, which it was. while waiting for the bathroom, i spotted a leather-jacketed guy wearing
another danzig tee
. the man is ubiquitous i tell you. then i ran into my friend
seze
and her buddies, who made everything more fun. the music was good both upstairs and downstairs, though the upstairs was slightly better from what i recall, especially once carlos took over. he pulled out some great music that proved he knew the difference between "classic" and "overplayed", as well as a few "oh my god i haven't heard that one in years" (in a good way). i stayed a lot longer than i anticipated because it was fun, although i'm sure the two drinks on an empty stomach didn't hurt. the stylish and ubiquitous
merlin bronques
took
pictures of people
. as usual i tended to shoot more obscure images like the one above, and some that will probably end up on
ocular spectra
next week.
the title of this post comes from the song
low
by
REM
. though i should probably have picked something from a danzig song.