images of broken light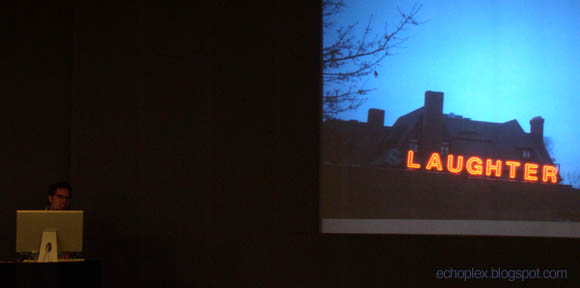 nyc photobloggers4
was seven photobloggers presenting at the
apple store in soho
, displaying a great diversity of style (thanks to
rion
, who assembled the lineup).
i was especially happy to see a presentation from jay parkinson of
darkshapesprowl
(above). he prepared a series of images and bullet points that were as professional as a business meeting, but full of his own personal charm. this wasn't just onstage huckstering though; when i met him afterwards, he was as nice in person as he's always been in email. one of the main points he touched on was the fact that digital photography is often "too perfect," and his efforts to rehumanize the form through inventive photoshop processing.
keith of
overshadowed
has taken a different approach to that issue. he announced he was switching over to using a medium-format film camera. he gave a more specialized presentation, focusing on the stages his photography goes through from raw shot to final image. ironically, he often seems to be intent on making his photos hyper-real, larger-than-life, evocative of widescreen sci-fi cinematography, yet is now going for the analog, human element, perhaps as a reaction to his past work.
another photographer who loves to shoot in the subway at least as much as i do, but from a different perspective, is
travis ruse
. he uses images of his daily commute to document and reveal the lives of the people around him, bringing them into focus to others around the world. apparently he was inspired to do this by the negativity in the news and the knowledge that people in other countries must have extremely skewed views on americans. his pictures show that ordinary working folk are pretty much the same everywhere.
the human connection was also very much a theme throughout the work of
mexicanpictures
,
pixietart
, and
go photoblog
, who are all excellent. jenene of pixietart in particular showed a strong sense of community, pointing out people she and others have met entirely through photoblogging. in another interesting twist, elliot from
slower.net
showed no pictures at all and instead give a talk about the pros and cons of the interactive side of the medium.
afterwards, most everyone adjourned to
merc bar
around the corner, to have a beer on
gothamist
, but i had to run across town to
sin-e
to catch one of my favorite nyc bands.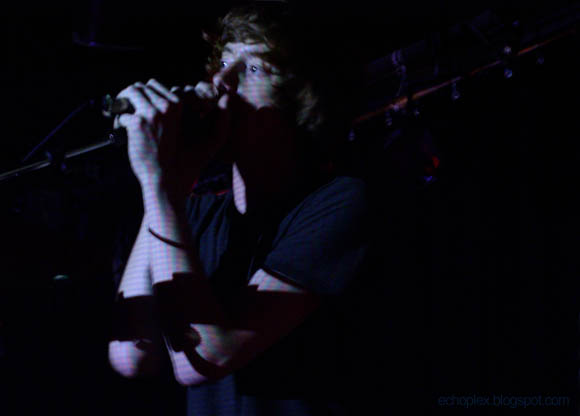 other passengers
have definitely matured as a band in the year since i first saw them at
bar 169
. the symbiosis between the members has always been obvious, but it seems to be reaching another level. this show was almost the antithesis of
the last one i saw
. here they were able to spread out on a real stage, with great sound and excellent mood lighting. this last enhancement came courtesy of
berkoy
, who created appropriately dark and shifting visuals projected directly on the band without the benefit of a screen. her work may not have been as immediate in this setting, but it melded perfectly with the music and was certainly superior to regular stage lighting. it was a subtle but effective addition to a great show.
billy, the singer, struck me as having almost an
ian curtis
-like intensity this evening. his shorter haircut and the lighting may have had something to do with that association, but the kinetic energy, desperate vocal tone, and wide-eyed stare are all his own. guitarists travis and kevin reached a peak in their call-and-response playing style. individually, travis tends to be more visceral and visual, while kevin plays little circular melody lines and gets insane effects. tobin's bass anchors the music while being extremely melodic, and james' rhythms are dead on but unafraid of syncopation. the two of them also seem to bring a serious dub influence to the foundation. their songs are never simple but almost always memorable.
they're only playing two more shows this summer before heading down to louisiana to record their debut full-length CD. i don't know how they're going to squeeze into the back of
cake shop
, but they put on a spirited performance no matter how small a space they're jammed into. try to catch them now so you can say "i saw them back when."
the title of this post comes from
across the universe
by
john lennon
.