the action packed mentallist brings you the fucking jams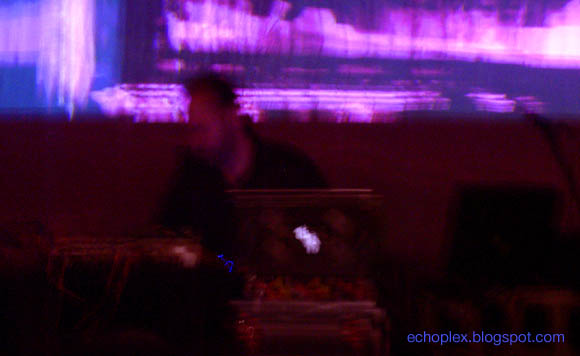 last friday i was hesitant to go down to
rothko
for a few reasons. first, i had something to do earlier in the evening. second, the cover charge was a bit pricey for a small club, especially considering the third reason, which is that i didn't know who anyone playing was, except for the headliner. fourth, even though i liked said headliner's CDs, would i be bored by yet another laptop-driven show?
fortunately curiosity and a need to blow off some steam won out. although i wasn't completely thrilled with the opening act, their "live drum'n'bass" was technically impressive and warmed people up a bit. i enjoyed the dj set by
tommie sunshine
, who apparently wears his sunglasses both at night
and
inside, one-upping
corey hart
. throughout the night the visuals by
phoenix perry
&
c-trl
were excellently done, psychedelic glitch stuff.
but the real reason i was there is what really made it worthwhile.
kid606
promised an "acid house" set, but i can't say it conformed to that exactly. i guess my idea of that style is
lords of acid
's
first album
, which i love. regardless, it was amazing. he assaulted the crowd with beats and glitches, speeding up and slowing down at will. at one point he even took requests, and obliged those of us who yelled out for his track "ecstasy motherfucker". when normal artists would have stopped, he just kept going, changing things up and making our brains explode and our bodies move. then after we were totally worn out, sunshine spun a second set even better than the first, keeping us there until nearly closing, refueling with water to dance even after we were too tired and our sides hurt.
the title of this post comes from
a totally insane underground album
by kid606.