down we go together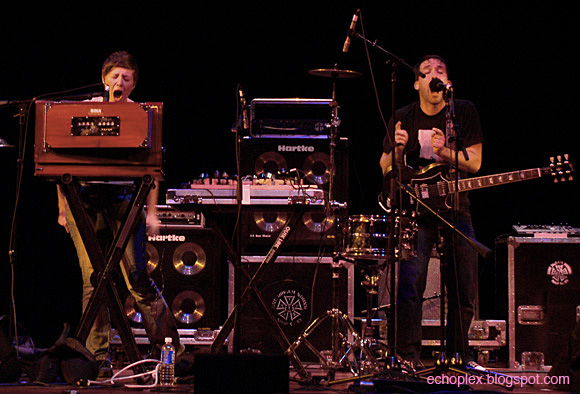 thanks to the kindness of
other passengers
, i was able to see them open for
xiu xiu
at the
skirball center
at
nyu
. i was pretty excited even though i just saw the latter band at
bowery ballroom
in september and
wrote about the show back in april
. to me, this was a great bill, since the two bands have some similarities to each other, although they may not be initially obvious to fans of either one. both are considered to be within the broad realm of "indie rock"; both of them are dark and dramatic in their music, while remaining fairly ordinary in their appearance; both write somewhat melodic music with odd structures interrupted by shocking bursts of noise; both feature passionate lead singers who tend to get worked up and sweaty in their performance. after that, the similarities end, which made the pairing as strange as it was appropriate.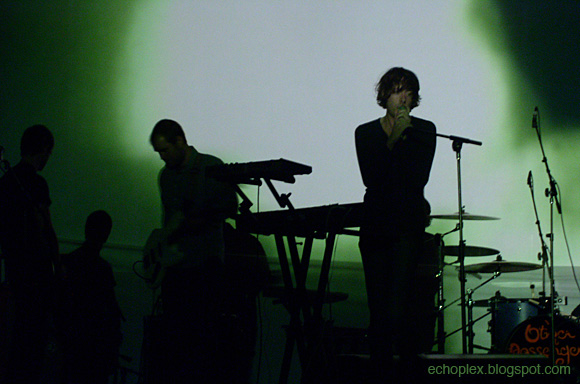 for this show, other passengers created short semi-improvised atmospheric pieces as both intro and connecting sections, building from singer billy's vocal effects and flanked by subtle noise guitar attacks from travis and kevin. they all played well, though they seemed to be plagued by minor sound problems such as balance (not enough bass guitar) and hum. still, they came off pretty well on the biggest stage i've seen them on (since i
missed them at the bowery katrina benefit show
). this was aided by the invaluable visuals of
berkoy
, who also had a much larger canvas to work with. the effect was probably not unlike like being at a late 60s
pink floyd
show. however, theirs isn't the kind of music you should take drugs to, lest you have heart palpitations and visions more disturbing than you bargained for.
speaking of disturbing, a CD i've since found out is the
langley schools music project
was played in between the bands. school children doing not-quite-on-key versions of songs by
paul mccartney
,
the beach boys
, and
david bowie
continued the weird vibe of the night. that it was a general admission show but with stationary seating felt very odd for both bands.
xiu xiu command the kind of hushed, rapt audience attention reserved for very few musicians. perhaps it's because the room was full of people who take jamie stewart's songs very seriously, or perhaps, in this case, it was because his voice wasn't loud enough in the PA. but even half-buried under the pounding programmed backing, electric guitar, and synthesized noise, his emotional intensity was clear. i recall a website announcement that producer/studio member corey mcculloch would be joining the live lineup. unfortunately, this hasn't happened yet, if it ever will; only caralee mcelroy joins stewart on harmonium, percussion, and background vocals. she also seems to have taken on a more expanded role in adding synthetic melodies and stabs of shrieking distortion. the two of them ran through the catalogue of musical self-laceration, pausing only to tune or change drum machine sequences while the people sat in quiet tension after each burst of applause. it's worth nothing that even playing a very full set of songs from their four CDs, some songs were still missed (particularly "sad guerilla ponygirl" and "fabulous muscles").
there were definite light moments to the show, though always shadowed slightly by the heaviness of the songs' subject matter. stewart announced almost apologetically that they were going to be playing the whole set in reverse chronological order, and he hoped that wouldn't make them "seem like dicks." after a particularly intense rendition of the
casiotone
-meets-
new order
-gone-industrial song "crank heart," an audience member asked "what was that last one called?" stewart deadpanned, "party time," which had a good third of the audience stifling giggles for the next 20 seconds or so. even though
happy hardcore
is a stated influence of xiu xiu, their version of it is so obviously warped by horrible personal experiences that the idea of a partying xiu xiu seems ludicrous. nowhere is their unique brand of "so horrible it's funny" more apparent than in the classic "i broke up," with its oft-quoted line "this is the worst vacation ever, i'm going to cut open your forehead with a roofing shingle" (the exact moment of which the above photo depicts).
a more nervous laughter greeted the band's final song, "helsabot." instead of one of the funereal recorded versions, its first-person tale of an "alcohol-fueled robot" was performed in such an offhand, light-hearted way, as if they were playing a fun cover of an old popular campfire song. but it's precisely because of his removal of camp that has allowed stewart to surpass his idol
morrissey
's ability to mix such personal, human horror with the right amount of black humor.
the title of this post comes from
a morrissey song
.