blur my thoughts again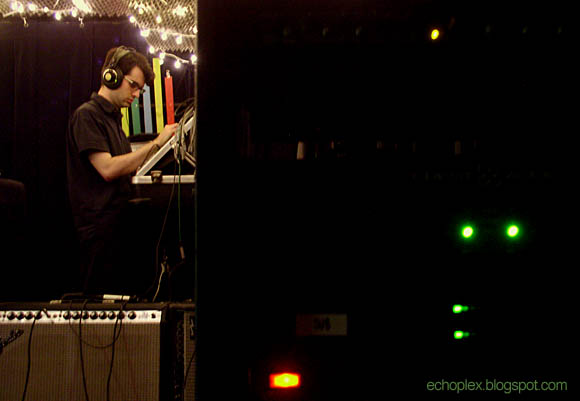 i've been excited about
cake shop
since long before it opened. as a former devotee of
halcyon
, i was familiar with the all-in-one shop concept. cake shop does actually sell cakes, but they also sell paintings and crafts, have a record shop in the back, and a downstairs bar and dj/live band setup.
though i'd been meaning to go since it opened several weeks ago, i was finally drawn to go by the short notice of a live performance by
mahogany
and dj set by
auburn lull
. both bands exist in a beautifully hazy area where shoegazer, drone, and slowcore meet. they're also both associated with the
darla
label/mailorder, where i've gotten quite a few great CDs. i gave just enough of this info to tempt
angel
,
josh
, and
robin
to come out.
besides the two-floor setup, cake shop differs from halcyon in that the musical focus is not electronica, but what can loosely be termed indie rock (although not as narrow as that sounds). it loses points in my book for not having a full bar, but it does at least seem to have a decent selection of wines for those who don't drink beer. other than that, it's a great little place.
upstairs, the front is dominated by a coffee shop-like setup where the cakes and non-alcoholic beverages are served. the cherry cheesecake made me roll my eyes at the first bite, which is a good sign. there are stools to sit at the counter as well as small tables and chairs underneath the paintings for sale.
the shop in the back is an indie record store browser's dream. the best-looking covers, pins, and magazines are displayed on the walls, a nice organized spot for flyers up front, clearly labeled and well-organized sections for both new and used vinyl and CDs, including a large selection of 7" singles. a nice mix of music too; hip enough to carry
the arcade fire
but not too cool to have a
hall and oates
record. speaking of which, go buy robin's brilliant
oates t-shirt
.
the downstairs is very clean-looking, with a mostly black-and-red color scheme. this continues in the op-art decor which robin pointed out are actually
square-cut color copies
. rather than thinking this was cheesy, we agreed it was a brilliant cost-cutting DIY thing to do. the stage area is also somewhat informal, since it's not raised off the ground and has the
cbgb
-like setup of an area to the side where more people can stand and watch. nearby there's a jukebox with a great selection of CDs rivaling those at
bellevue
and
ace bar
. there are comfortable cushions and couches up against the wall and moveable chairs for easy group conversing.
this wasn't going on a lot though, because the music was great. the DJs had the perfect mix of ambience which ranged from early cocteau twins to dubbed-out electronica. for a long time, someone seemed to be soundchecking (see above), although it was seamless with the DJ set going on and quite enjoyable in itself. when the real show began, mahogany played their set in total darkness, with friends of the band swelling their ranks to eight people. it seems like they only played two very long pieces, which began like something off of
eno
's
apollo atmospheres and soundtracks
and grew to a massive wall of sound. multiple effected guitars created swirling layers of echoing harmonies, while old drum machines and synths added quaintly robotic rhythms which became harsher as the pieces built up to a climax and then faded.
for some reason although i stayed dry that night, the hypnotic music gave me the sensation of being somewhat buzzed, even to the point where some of my memories of the evening aren't quite clear. it all went by quickly, which usually means a damn good time. i applaud cake shop for living up to my expectations and hope this great new addition to the lower east side stays around for quite awhile.
the title of this post comes from
a song by auburn lull
.