last trick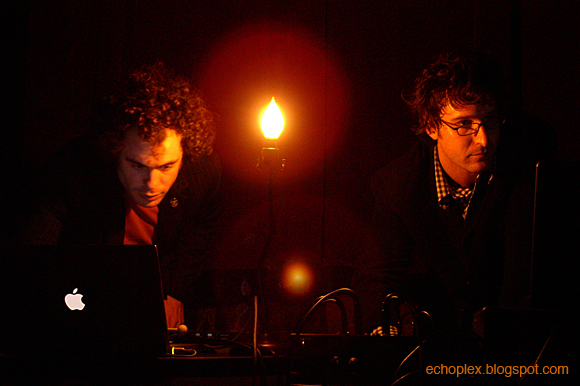 i would never have thought a bill so left-field could pack a place out so much on a wednesday night. but when i got to
northsix
at the suggested time of 8:30 pm a few nights ago, i was told by shannon of
stars like fleas
that i was on the "to pay" list, since the show was "way sold out."
i almost didn't go to the show. i've seen SLF a lot, and written about them here several times. i didn't expect them to play again so soon, but they got the opportunity to open for
deerhoof
. i'd heard of the latter band by their association with labelmates
xiu xiu
(who i love). i tried to like them, but the mp3s i heard just weren't my kind of noise.
flying
, who supported SLF
the last time i saw them
at
tonic
, was also playing, along with a band i'd never heard of called
lavender diamond
.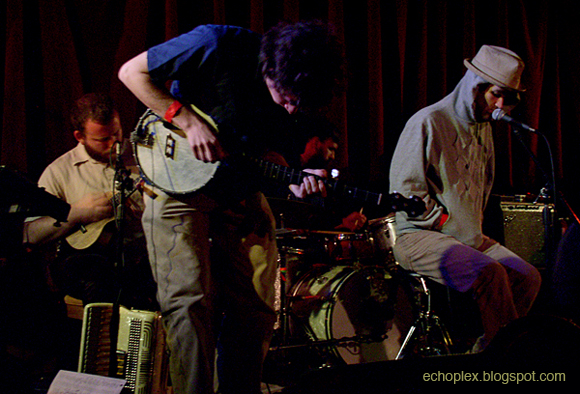 although i liked SLF's last show, it was a very dissonant and noisy affair compared to their usual balance of tunes and improvisation. on this night they swayed in the opposite direction, sticking to pretty songs and more structured and harmonious improv interludes. i think the balance was better, although shannon later told me the lack of ambient sound reflection onstage was not very conducive to interplay between the musicians. as a result, they tended to link up in clusters, playing off the closest people they could hear. one of the best musicians for this is the slide guitarist, gerald menke. i had the pleasure of improvising with him at an SLF recording session, and hopefully it will turn up in some form on their next album. he listens very attentively and adds the perfect bits at the right times. overall the set was great, although there was a pervasive sense of sadness i've never felt in their previous shows. i'm glad this was their last live impression before going into more studio hibernation.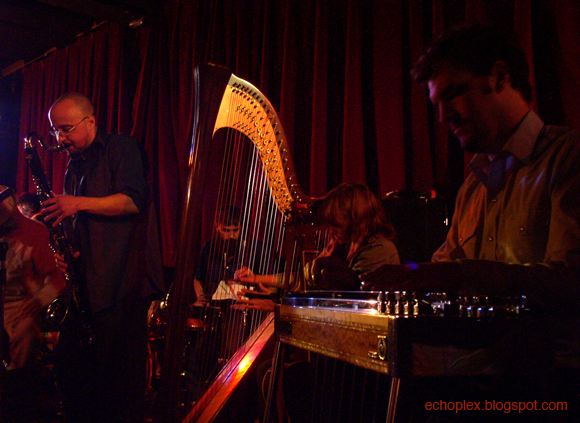 lavender diamond had a fun audience rapport, but musically they were a bit too straight-up for my tastes, although i like the recorded version of "you broke my heart" on their website. flying brought their quirky vibe, although sadly quite a bit of the crowd rudely talked through their set. i preferred their show at tonic, but they did well nonetheless, winning over a decent portion of the packed house. they sold their CDRs with handmade covers and were very nice people. by the time they finished it was pretty late, so i wasn't up for giving deerhoof a shot, though to be fair i've heard they're better live than on record. another time perhaps.
the title of this post comes from
a song
by flying.