words may not come so close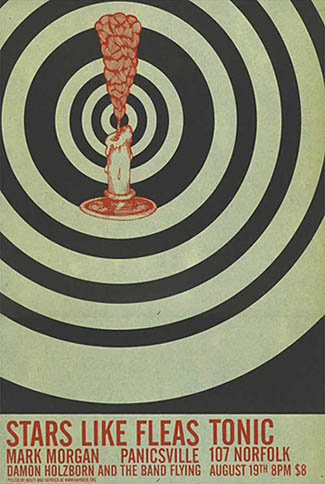 stars like fleas
is a band who deserve more attention than they've been getting. while several avant-folk artists such as the excellent
akron/family
and
devendra banhart
have been more widely discussed, stars like fleas have garnered some serious respect by setting themselves apart from the pack. their music draws extensively from jazz and experimental improvisation, yet utilizes and contains electronics that would put off most purists.
the band is a loose collective of ultra-talented musicians centering around composer/arranger/multi-instrumentalist
shannon fields
and other members, several also in orchestral pop band
the silent league
. the wild card is singer/lyricist montgomery knott, who also runs the very cool
monkeytown
series of shows/installations. he reminds me of
michael stipe
singing in
jeff buckley
's range with the fractured imagery and emotions of
thom yorke
. but frankly even these are weak comparisons which fall away when listening to the band play live.
ok, full disclosure time. i have the privilege of being asked to play on the next SLF record. how much i end up on it is entirely up to them and how well what i did fits in with their vision. i won't give away too much of the process, but shannon and i share a love for both the extremely experimental and massively anal-retentive approches of music-making. we met when
my band
was looking for artists to play
a show with us (and the aforementioned a/f)
at
the tank
last year. this also led to our
playing a show
with keyboardist ryan smith's project
a million billion
.
if you're in nyc and like music that is delicately violent and out of the ordinary, make it a point to go to
tonic
this coming friday to see them and the
intriguing support acts
they've personally lined up.
the title of this post comes from a song on
the last SLF album
.