on a generous day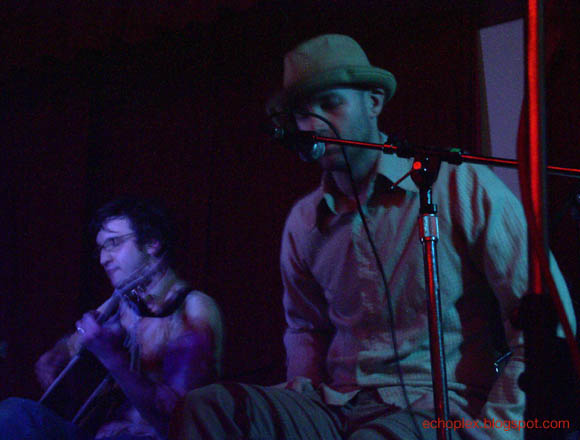 i was told that when
stars like fleas
was told about the trouble
tonic
was having, they said to just make their night a benefit night. i hope more musicians playing will do the same, because there's a lot of money to raise before they're out of the woods.
at least there was a good turnout this past friday for SLF and
doveman
, whom i had
seen before
. this time, shannon from SLF sat in on noise guitar, while the excellent banjo player (shown below) sat in on violin with SLF. both sets were good, but headliners SLF have now mastered the art of not stopping between songs, instead melting into a sea of experimental improv that actually makes sense as segues rather than sounding like filler. every show they play makes me anticipate their new CD more, as well as appreciate their
last one
more.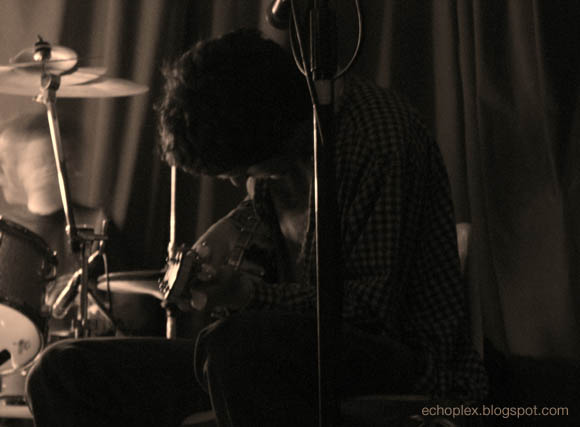 after the main show, we were all made to clear out and pay for re-entry to the event originally scheduled for
the bunker at subtonic
. there was apparently fear of flooding, so the show was moved upstairs. good thing it was, because it ended up being completely packed and sold out. i'm guessing this was due to the past associations the artists had with
einsturzende neubauten
and
the orb
, but i could be wrong.
thomas fehlmann
turned in an amazing set of music with his laptop (although he didn't do much if anything"live", in this case it was so good i didn't care). the DJs warmed up the crowd before him and got people moving and staying long after he left the stage. a long night, but totally worth it.
it looks like there'll be more good things to go to while trying to save one of the best alternative music venues in the city.
this coming wednesday
the interestingly named folktronica artist
t. griffin coraline
will be playing along with the dark alt-country/cabaret-sounding
melomane
. i'm sure i'll go see
vincent gallo
again, since i liked his show last year and i have both his albums on
warp
(which is a strange combination, considering what the music sounds like). but the big deal (and high-ticket) event is
yoko ono
and
sean lennon
playing together. i'm not even aware of yoko doing live music shows at all, at least not since
john
was alive, although she does continue to
release albums
and create conceptual art.
the title of this post comes from a stars like fleas song, and refers to the money i spent at tonic.