garden of unearthly delights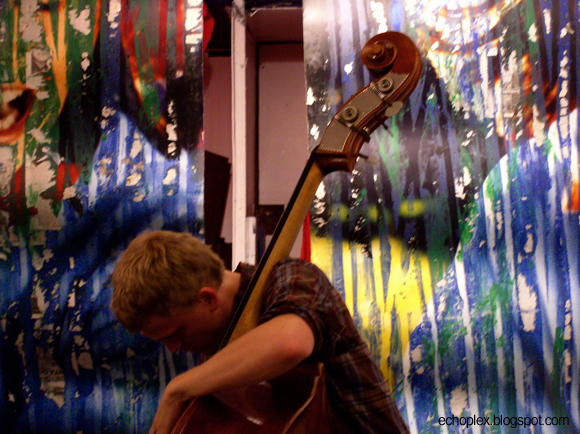 on sunday
c.o.m.a.
held an acoustic benefit concert for
abc no rio
in the latter's LES tenement. i'd never been there and this seemed like a perfect opportunity. the performances were overlapping almost continuously in six different spaces throughout the building, including the garden. not only did i get to hear a lot of interesting music (above is bassist
andrew lafkas
), i got a lot of good shots that will be on
ocular spectra
soon.
abc no rio is a unique venue. it's basically an old building, not specifically made for live music, and so is actually a pretty exciting place to experience it as a result. often musicians crowded into rooms barely big enough for themselves, much less an audience.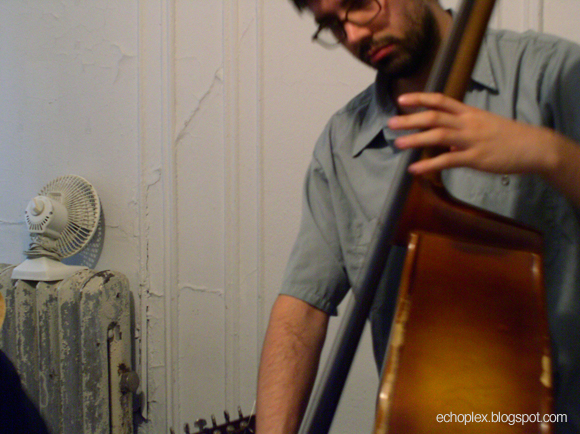 the event was almost like an experimental
lollapalooza
. running back and forth between rooms, you were bound to hear something good. above is the self-described "secret bass player" who played in a trio with flautist diana wayburn and acoustic guitarist
ty cumbie
. at one point, i stood in the garden near the doorway in the perfect spot to hear three different sets of musicians playing simultaneously. that was a beautiful coincidence no one else could experience without being within a few feet of that spot.
the music ran the gamut from free jazz to beat poetry to electronic processing. i approached it like a smorgasbord and sampled a bit of everything.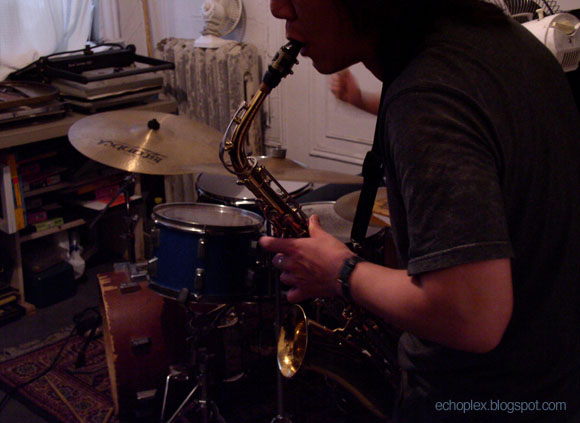 i was mainly there to see
robin
's friend
ed chang
(above), who played in a noisy avant-jazz trio. i prefer his work on guitar, but it's fun to see him nonetheless, he's a great musician.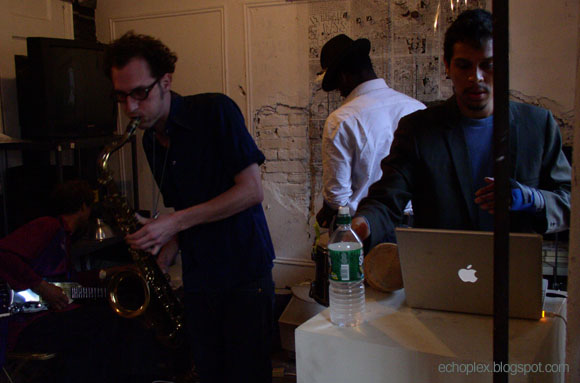 an unexpected pleasure was the quartet of (l-r, above) on davis, nick gianni, colin carew, and jerome james. a great blend of acoustic and electronic sounds. i want to hear more of them since they were one of my favorites of the day.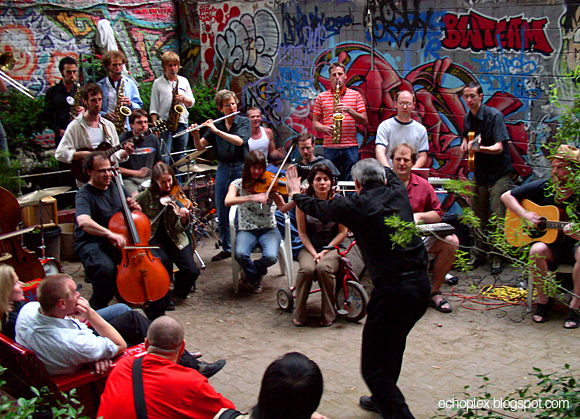 i'd heard of soundpainting, but it's quite another thing to see the
walter thompson orchestra
(above) in action. many of the players from the smaller ensembles were also a part of his lineup. thompson conducted the players with unorthodox movements to improvise at his commands. there was even some audience participation at the end.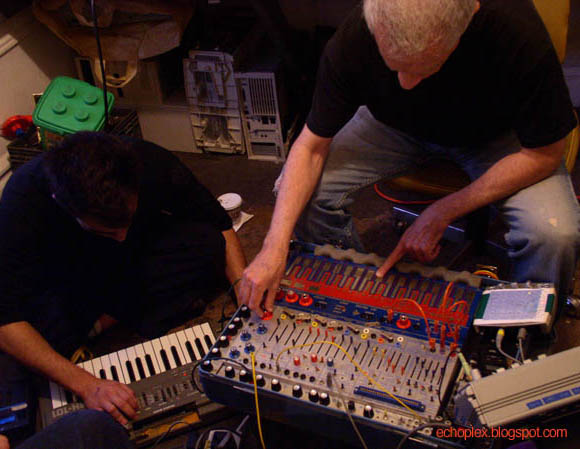 i was happy to see
charles cohen
on the bill, since i loved his improv set with
michael (sporangia/leisure muffin)
last summer at
dogs blood rising
, which was one of the best shows ever at that monthly event. using the
buchla music easel
and a looper, he and joe lentini (on another synth and reverb effect) performed an ode to the south american rainforest. the music was transmitted through various speakers and radio receivers all over the room, enhancing the sense of space.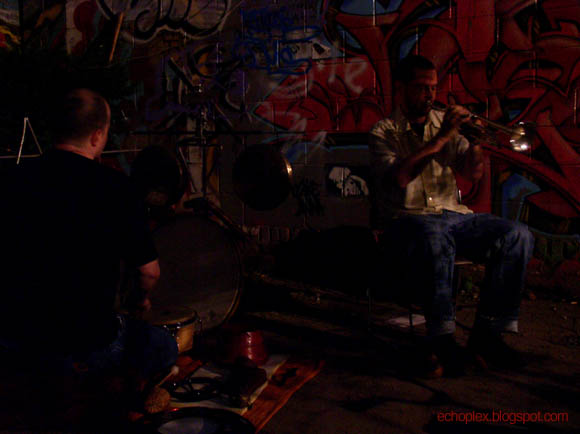 i caught the last few minutes of another dbr alumnus,
nate wooley
(above), because i heard a wonderfully hideous shriek from the garden, which turned out to be his trademark atonal trumpet. he was in a duet with a percussionist who had a lot of interesting instruments but used them discriminately.
this was some seriously underground music in a very raw space. after this i'll be paying more attention to what's going on at abc no rio.
the title of this post is a paraphrase of both
a hieronymous bosch painting
and
an xtc song
.