in the belly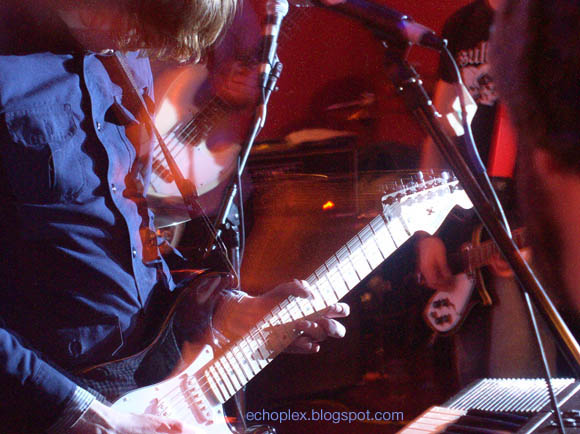 two saturdays ago a select number of people experienced what was for me a dream lineup of local bands.
other passengers
,
akron/family
, and
dirty projectors
played the closing night party of the WBAR radiothon, a weeklong series of events to raise awareness and generate funds for
barnard college
's radio station. being against the stranglehold
clear channel
has on radio (among other things), i thought this a great opportunity to support independent college radio and see some great bands at the same time. it was worth braving the screwed up train service that weekend, even to travel up north to the thin air of
columbia university
.
other passengers (above) played with more than their typical wild abandon, probably due to the fact that there were no monitors for anyone to hear themselves, particularly the singer, bill. even i could barely hear him and i was in front of the speakers and 4 feet away from him. he sweated and shook with genuine neurotic energy, while the band just attacked everything, and it worked.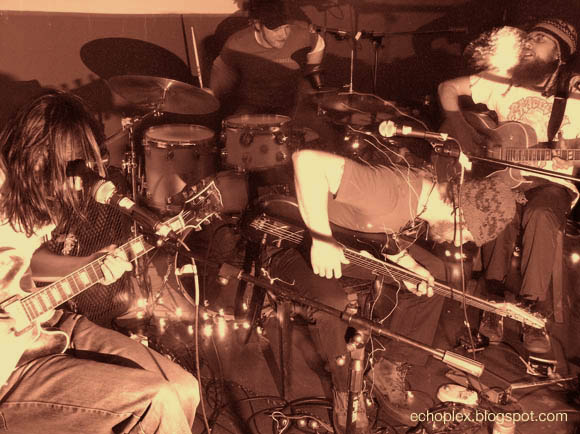 akron/family played a relatively truncated set (for them), but clearly impressed a lot of the crowd previously unfamiliar with them. among these were dirty projectors' dave longstreth, who thanked them for playing and declared them his "new favorite band". this band also benefits from being squeezed into a small, uncomfortable space. they fairly exploded out of the corner of the room, probably on this night in anticipation of their album release the following week.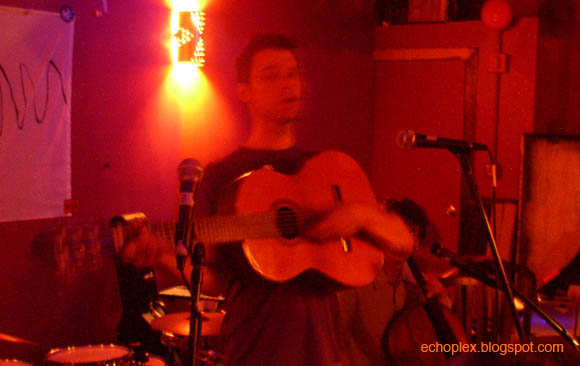 dirty projectors also have
a new album
coming out soon. at
the last show i saw
, i likened the music to alternate reality versions of old disney scores. when i picked up the album
slaves' graves and ballads
, that assessment was made beautiful reality by orchestral arrangements in the first half. this time around it was more the "ballads"-sounding half, since the group were down by two string players. their voices projected above the inadequate sound system and evoked a lushness of their own that proved the soul is in the heart of the songs and performances and not dependent on instrumentation.
and all this for only $5! since it was a benefit and full of excellent musicians, they could have charged $10 and i'd still have been happy.
the title of this post comes from a song on the
other passengers CDEP
, which is also appropriate for the hot dank basement the show took place in.