a trail of gossamer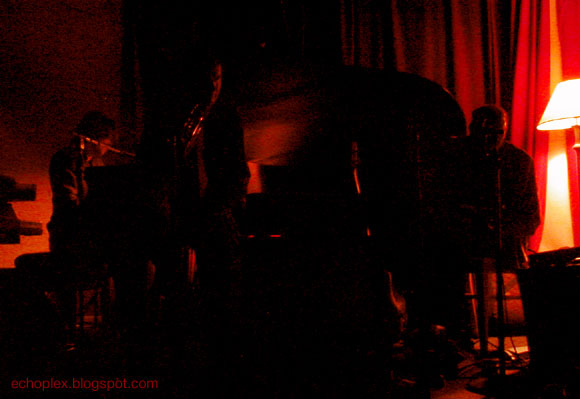 shannon of
stars like fleas
clued me in to the
doveman
show this past sunday at
tonic
. yes, for anyone who's been following this blog's short history, that means i spent three sundays in a row there. i guess someone thinks that's the night to have quirky experimental alt-folk and electronica.
i wasn't initially too interested in this group. the tagline "sad songs about girls" doesn't exactly set it apart. however, the music does. singer thomas bartlett lives up to his press as seeming like he might crumble from the emotional weight of each song. in case you find his delivery too mannered or lightweight, the rest of the band achieves a beauty worth the price of admission by itself. the lack of any bass enhanced the music's fragile quality. the drummer was particularly into it, although the delicate banjo work, sparse trumpet and electric guitar all helped create a lovely tapestry of earthy sounds. bringing it a bit more into this century was a combination violist and laptop musician, who added clicks, crackles, and old-timey loops on his computer.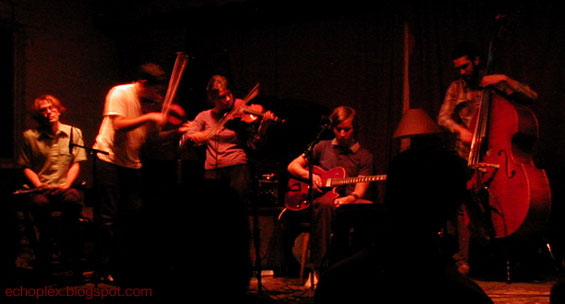 the same player also joined michigan-based
flashpapr
onstage. this band were a bit more traditional, repetitive, and droning, but in a good way. quiet guitar picking or strumming was always joined one by one by the other musicians, whose instruments were a bit more on the classical side (including 2 violas, clarinet, upright acoustic bass), but also included a subtly-used laptop. the songs unfolded naturally like a story handed down by oral tradition.
neither band invited obvious comparisons; none that were valid, anyway (my initial pegging of flashpaper's singer as beck-like was lazy). this uniqueness was a good thing, a view which was obviously shared by the crowd, a fairly impressive number for a sunday night of any kind of music, much less this alt-folky weirdness.
the title of this post comes from a song by a dark ambient project i'm in from time to time called
a murder of angels
.