psychasthenia : qu'est-ce-que-c'est?
the psychasthenia society
is a great show hosted by jon keith brunelle that shocases some of the best work by New York artists whose instruments are laptop computers and related devices. brunelle narrates an original story based loosely on images captured from sources such as obscure and classic films, sometimes accompanied by sound effects and music. each chapter of the story is followed by an electronic artist and video manipulations of some of the preceding imagery. i've seen three of these shows, and they're captivating.
tonight the piece will be "the hammer variations". video will be manipulated by
daniel vatsky
, and the musical interludes will be provided by the excellent laptop artists
mad ep
,
mathhead
, and
end
.
below is a picture i took of
velapene screen
performing at the psychasthenia society show at
galapagos
, which is where tonight's show will be too. best of all, it's free. but please buy a drink or two and support galapagos, it's a cool space.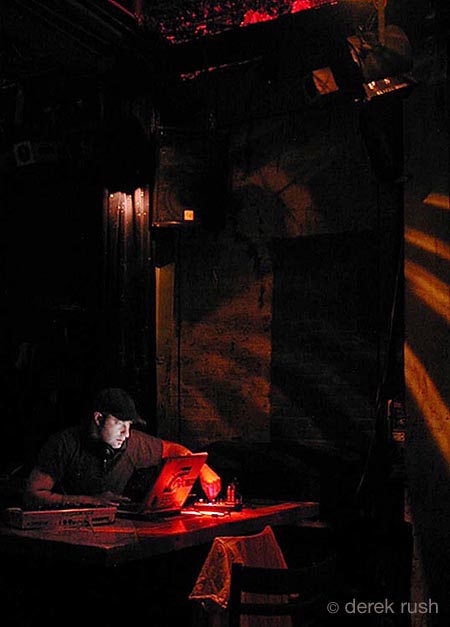 velapene screen will actually be playing a
breakcore show
this coming sunday at
siberia
, where you can also see mad ep again. don't be put off by this, mad ep lives up to his name. the sets will be completely different and entirely appropriate to each of the bills he's on.
the title of this post is a paraphrase of lyrics from
talking heads
' "
psycho killer
". but you probably knew that already.