video made the laptop star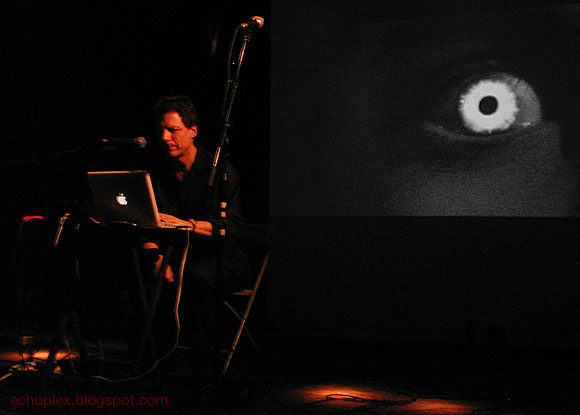 wednesday saw another installment of jon keith brunelle's
psychasthenia society
, which i talked about in more detail in
this post
. this time brunelle told three separate short stories instead of a long three-parter. clever and wryly amusing as always, with a touch of pathos and poignancy in the second story about his former trade show years.
besides the promise of the excellent storytelling,
angel
,
bianca
, and i went mainly to see
ryan smith
of
stars like fleas
debut his project a million billion, which will have an album out on
praemedia
next year. i likened it to recent live
coil
but not as harsh, lovely clean-but-edgy electronic tones shifting and bouncing between speakers. good for deep listening.
glomag
was also quite enjoyable, although more beat-oriented, and
daniel vatsky
did some excellent video work.
the title of this post is a paraphrase of a
song
by
the buggles
.