i can't stand still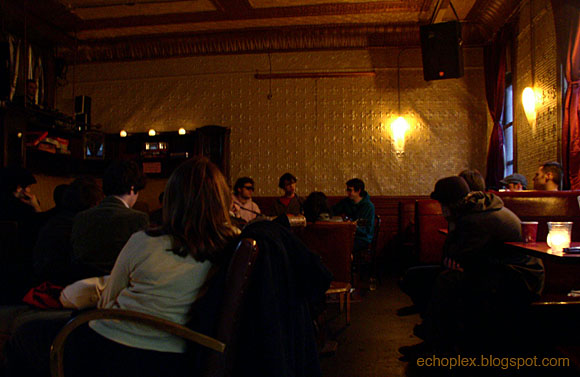 a free set by a new incarnation of
dirty projectors
gave me an excuse to check out
soundfix records
last saturday in williamsburg.
when i got there, to my surprise, the band was not playing in the record store, but behind it. soundfix occupies the corner of north 11th and bedford, a few blocks beyond the main drag of the neighborhood. the main entrance is in the record store, but past that is a small dark wood-paneled room with old-style chairs and a coffee table, which was filled with people on their laptops or waiting to use the restrooms. a push beyond, however, and you're in a coffee shop/lounge with plenty of seating options, from stools at the counter to tables with seats like church pews, to comfortable chairs and couches. an old bookshelf, or possibly something once used to display fine china, doubles as decoration/storage and a front for a raised DJ booth in the corner.
in the back, with only a few ambient mikes pointed in his general direction, dave longstreth led his trio through an acoustic set of his clasically off-kilter tunes. this man writes like a
tin pan alley
songsmith following his own muse instead of the marketplace. he starts off penning a melody that wouldn't be out of place in the likes of
porgy and bess
and then turns it into something somehow folky and avant-garde in its execution. he frequently shifts keys and tempos, plucking out jazzy chords no matter what kind of awkward fingering is necessary. he comes on like a 1940's
crooner
who isn't trying to seduce anybody and doesn't take himself the least bit seriously, then without warning starts belting out the melodies, unafraid or perhaps even determined to crack his voice with the sheer joy of music-making. he stretches out syllables into
melismas
more bizarre and complex than any r+b singer's, and the accompanying harmonies follow him down the winding path. it's as if dirty projectors can't stop churning out brilliant song ideas for a musical that will never be made, because their ideas come too fast and furious for anyone to stop and make a full-scale production out of them. then again, broadway's self-cannibalizing producers wouldn't know what to do with numbers entitled "
finches song at oceanic parking lot
" (longstreth seems to have a slight obsession with finches).
the sound was natural and resonant, and all three members could be heard without any microphone feedback. the atmosphere was relaxed, and the high tin ceiling not only enhanced the reflective sounds, it made me feel i was hanging out in just another brooklyn apartment listening to some talented guys sing and play.
i only made a quick run-through of the record store, but the prices seemed decent. that they had
brian eno
digipak reissues and a decent-sized jazz section as well as the expected indie rock and electronica was a good sign. i also noted the
the manish boys/davy jones and the lower third
12" on display for trainspotters. throw in a good zine selection, two computer stations up front and a spacious area to browse and walk between the racks and you've got the most inviting music retail place i've seen in years.
the title of this post is the name of a
don henley
album, whose namesake is shared by the protagonist of the dirty projectors'
the getty address
.